WE ARE HABITAT FOR HUMANITY OF LONG ISLAND!
We believe in a world where everyone deserves a decent place to live. By building affordable homes we create strong and stable communities on Long Island.
Strong, healthy homes help build strong, healthy communities.
Build Affordable Homes
We build safe, affordable homes for low-mid income families in need of housing.
Homeownership Opportunities
Homeownership Opportunities
Habitat Long Island creates homeownership opportunities, allowing families to realize their potential and accomplish their dreams.
Our Impact
Our work impacts health, environmental and educational outcomes.
Working with Volunteers
Because of our volunteers, whole neighborhoods can be completely transformed.
Home Repair Program
Our Home Repair Program provides affordable home repairs for low-mid income residents, preserving homeownership and providing long-term housing solutions.
LONG ISLAND RESTORE
Proceeds from the ReStore provide an important source of additional funding for Habitat Long Island to build and renovate high-quality, affordable homes for Long Island residents.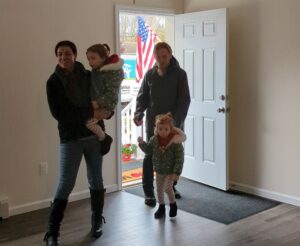 A grateful mom and dad with twin daughters were handed the keys to a new home ...
Read More

→